Termograpgic Inspections like never before
All the information you need in the least time.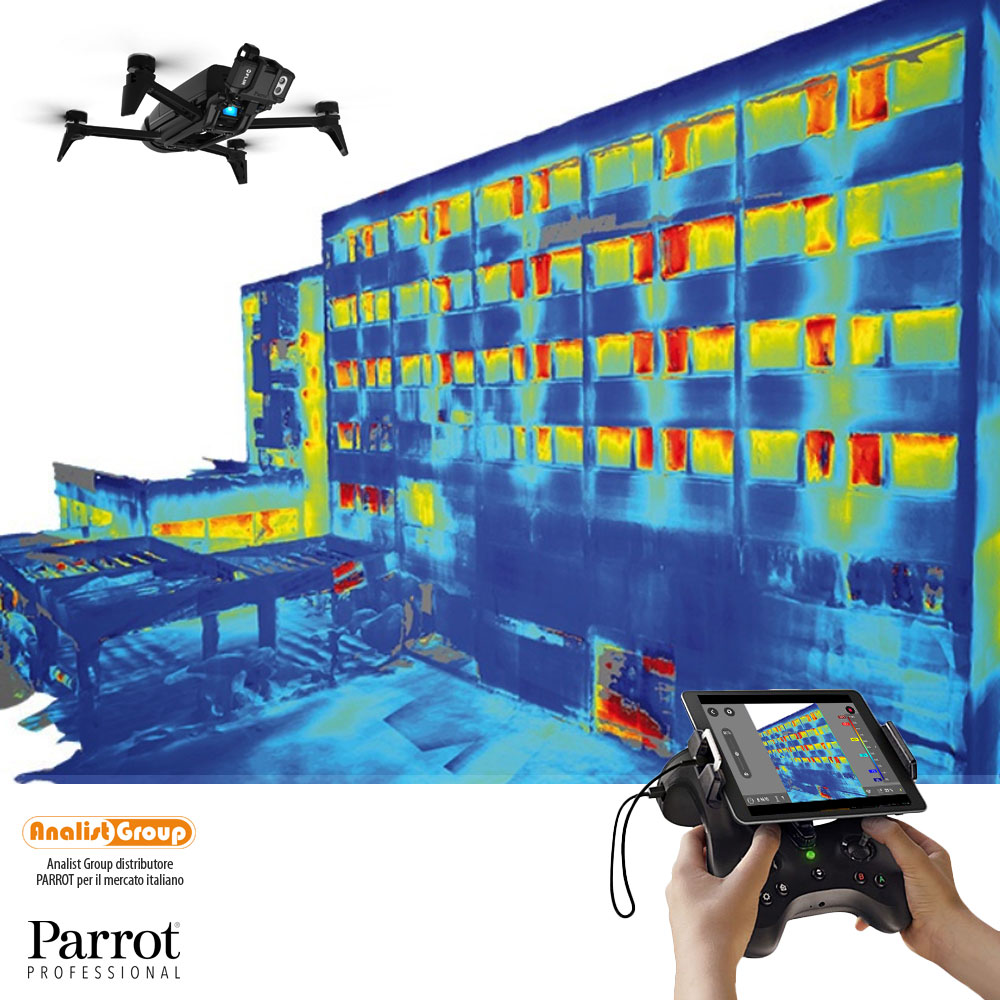 Geo-located orthomosaic and Thermographic Inspection with only one flight
Automatic flight plan. Data immediately available.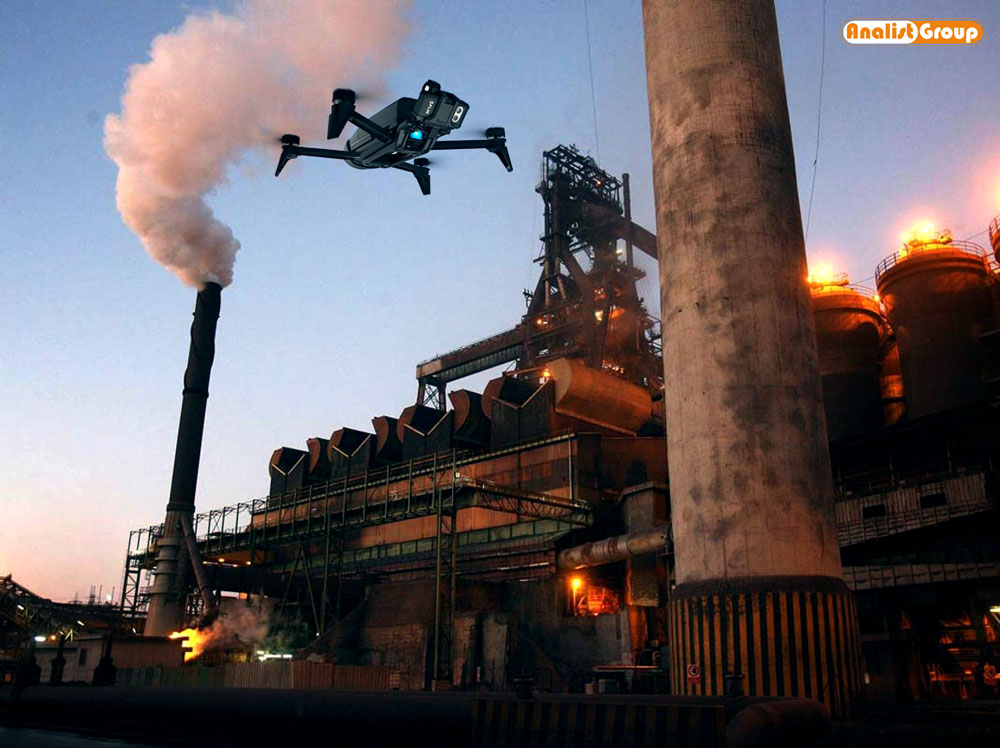 Phantom 4 Pro + Analist + Pix4Dmapper
Industrial Site Geo-located Orthomosaic.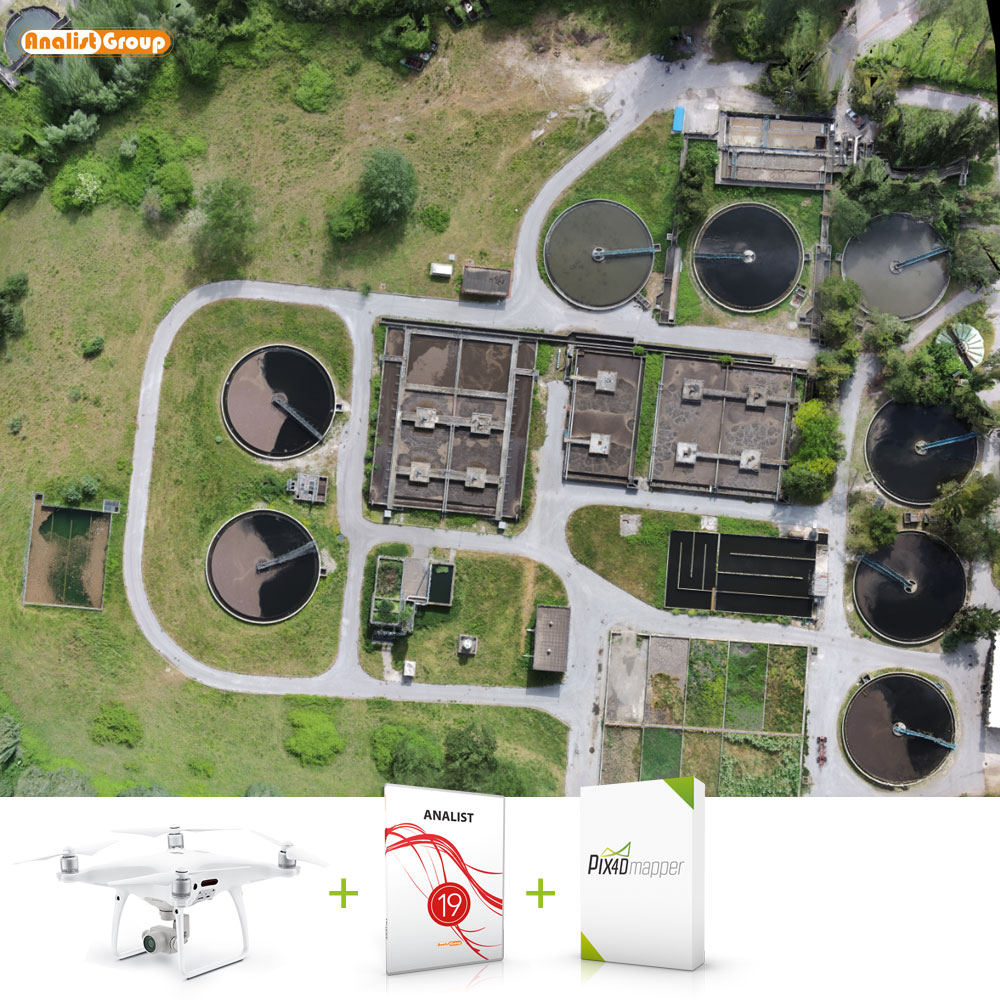 Industrial monitoring with OneRay-RT
Import your 3D models, add all the assets and create animations.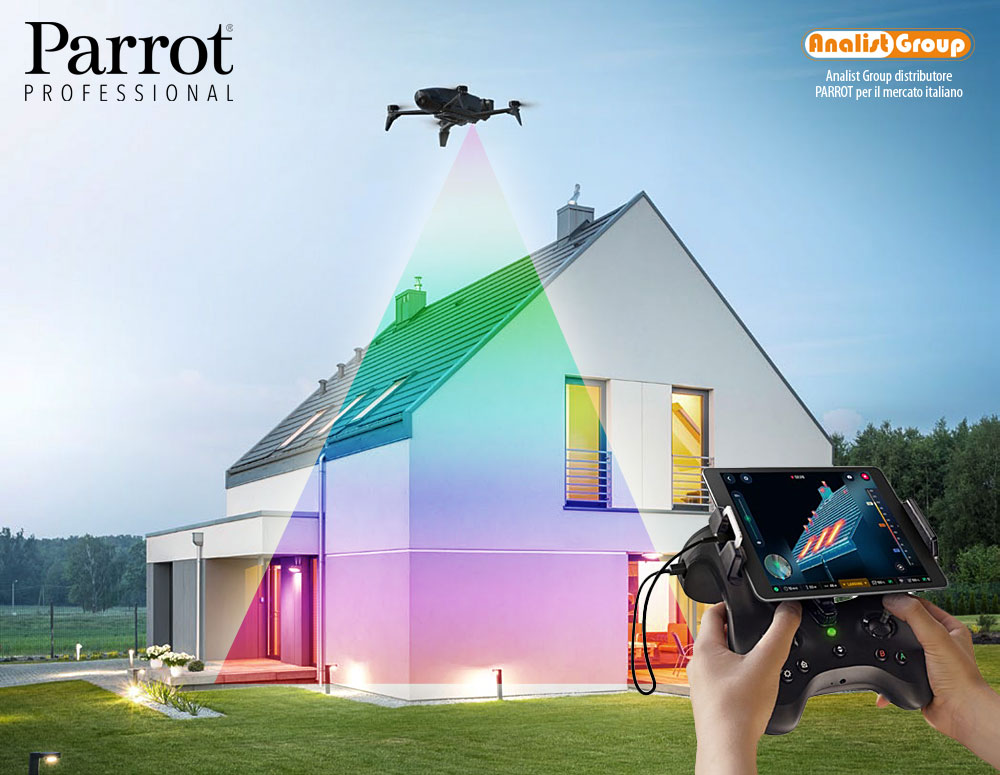 Frontal Full HD + Thermal IR Cameras
The turn-key Solution for visible and termal Inspections.
The front camera allows construction professionals to make Full HD videos and take pictures of buildings and houses for visual inspection. The drone is also equipped with FLIR ONE Pro, which allows architects and roof specialists to easily acquire thermal images of buildings and roofs, to quickly identify the main thermal losses.
Parrot Bebop Pro Thermal VIDEO
FreeFlight Thermal App included
From the flight to your data in just a few minutes. Simple and intuitive.
The new FreeFlight Thermal mobile application allows live transmission and recording of both visual and thermal images. Parrot Bebop-Pro Thermal is an easy-to-use integrated solution: it is simple to set up and to drive with Parrot Skycontroller 2.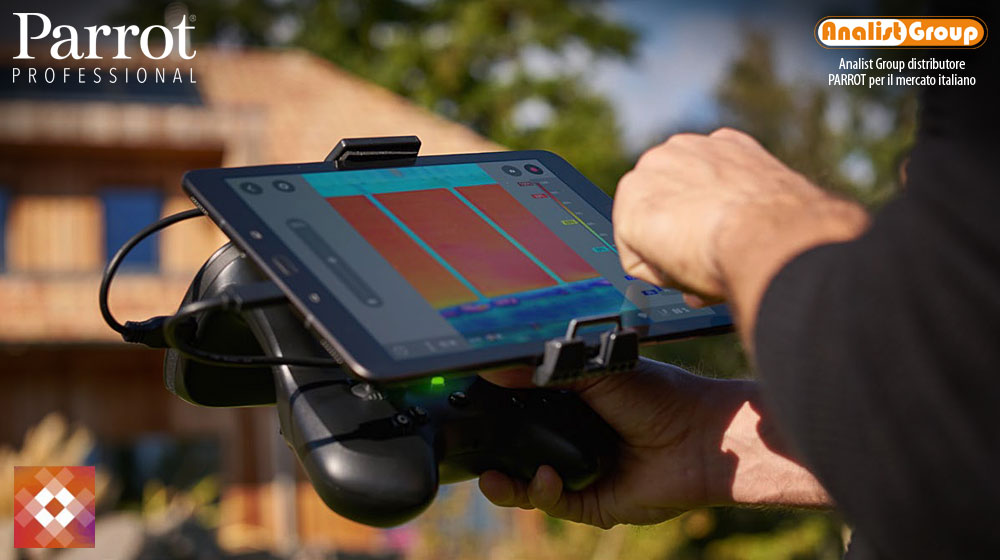 Perfect for Architects and Construction Professionals
1 DRONE and 2 Videocameras multifunction.
Parrot Bebop-Pro Thermal is based on highest reliability and ease of use of the Parrot Bebop 2 Power drone, and comes with an extra battery and an increased internal memory.
Parrot Bebop-Pro Thermal is the compact drone with state-of-the-art technology: ready to fly, using the advanced digital image stabilizer.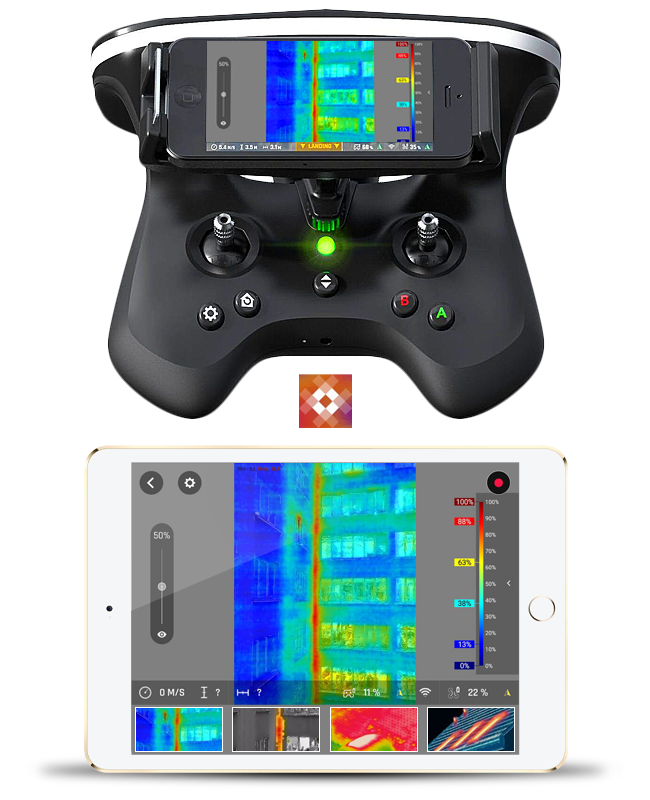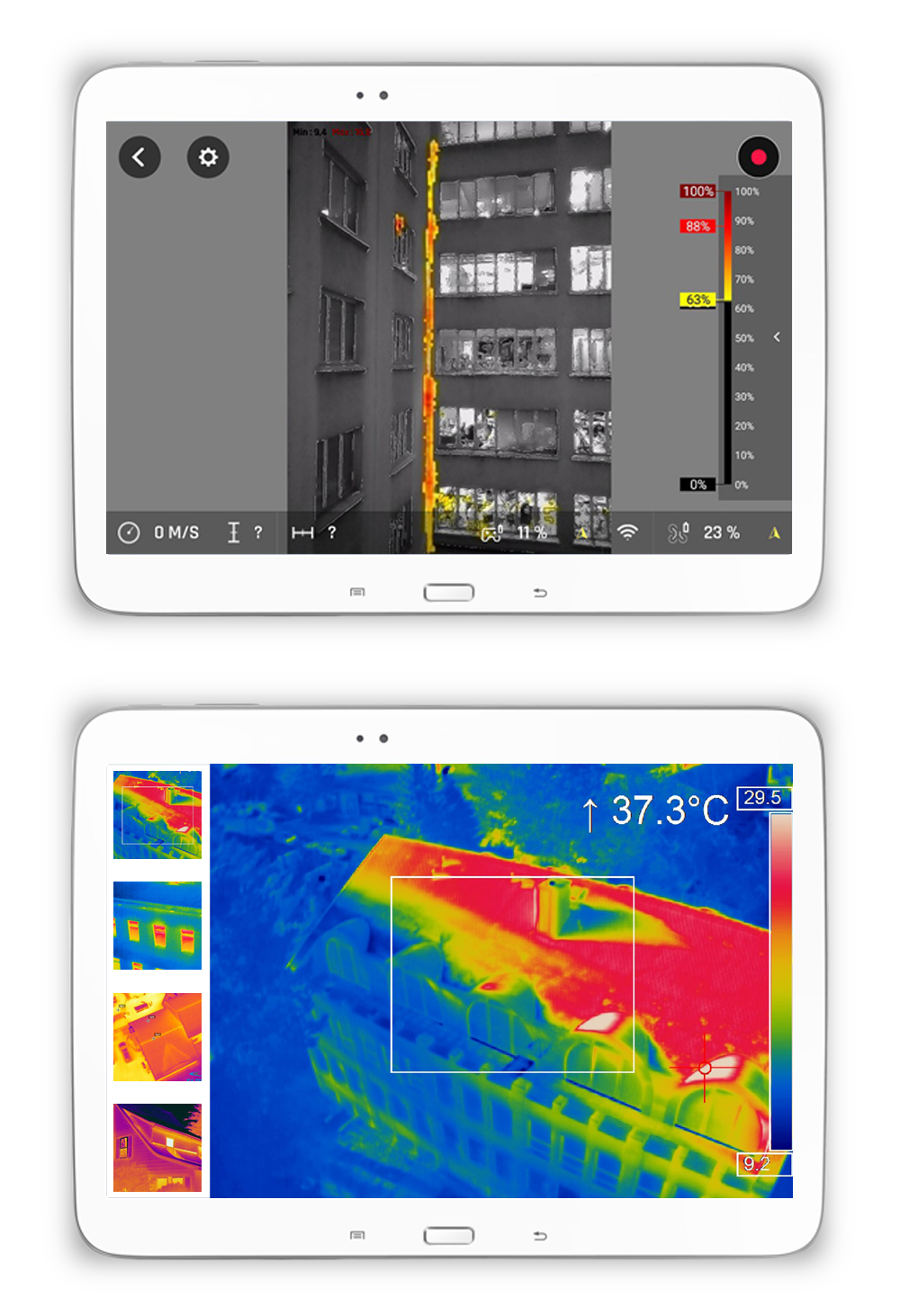 FreeFlight Thermal
The new mobile App specifically for Parrot Bebop-Pro Thermal.
FREEFLIGHT, available on the Google Play Store, uses the same interface as the FreeFlight Pro, modified for thermal images.
FREEFLIGHT App:
Mobile application for Parrot Bebop-Pro Thermal, only for Android

.

Visual images, video transmission in real time and recording.

Acquisition of thermal images and video transmission in real time.

Switch at any time between front and thermal cameras.

Available in 3 different color ranges according to different uses: Standard, Dynamic, Hotspot.

Recording and playback of thermal video with the range of different colors and export in a standard video format.
FLIR One Pro: IR Evolution Thermography
Immediately identify the issues not visible to the naked eye.
The FLIR ONE Pro is a performing and consistent thermal camera. Its revolutionary VividIR ™ thermal imaging technology allows you to see more details and provide your customers with proof that their problem was solved the first time. Electrical panels Inspections, air-conditioning system issues, or damage caused by water, the new FLIR ONE Pro is the indispensable tool for all professionals.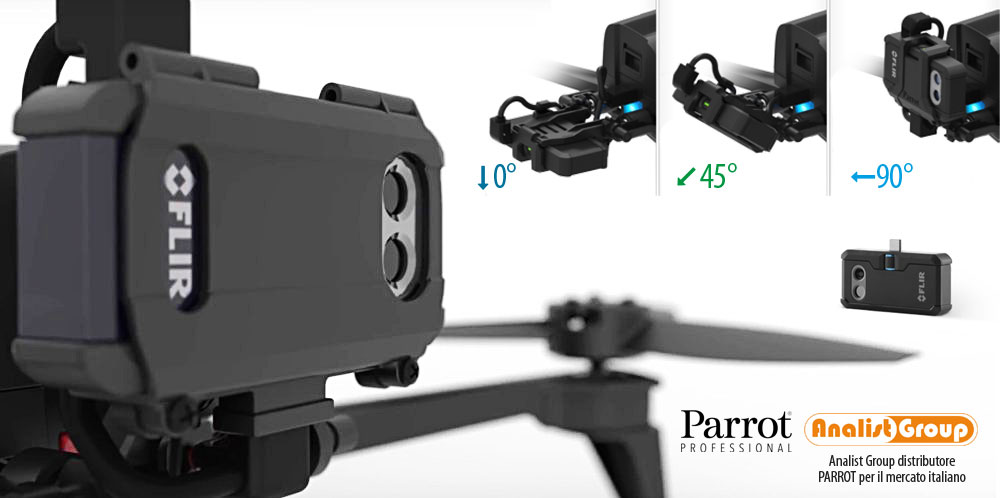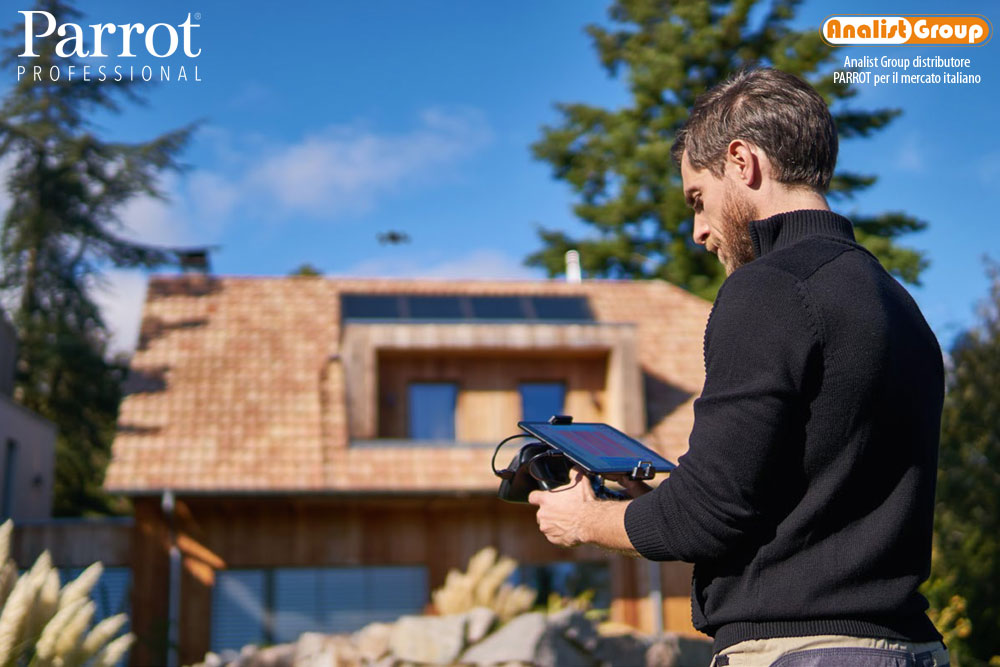 Precision Thermal Inspections
Show your customers the problem. Suggest the interventions and verify the solution.
To be able to see the distribution of heat means to discover deficiencies, damages or inadequacy of the insulating material, poor airtightness of the building, and infiltrations or damage caused by humidity and finally dispel any doubt. FLIR One Pro helps you detect heat loss, water damage and structural problems, and show your customers evidence of problems - and repairs - to work faster and more efficiently.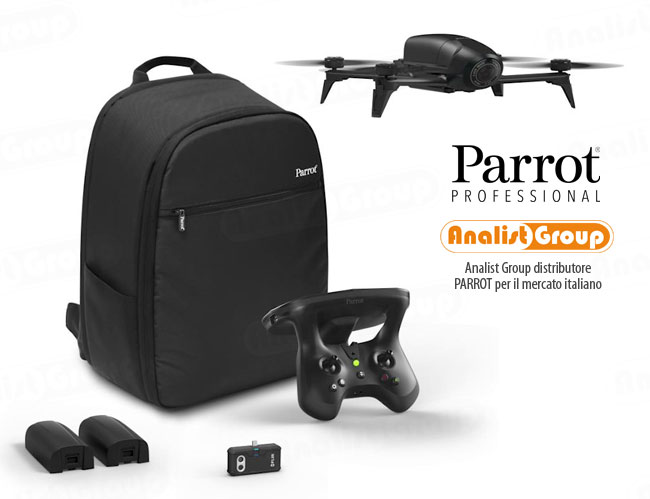 Complete Solution
What you get:
1 DJI Phantom 4 PRO with with propellers, radio control, battery and transport case;

1 Parrot Bebop-Pro Thermal;

1 FLIR ONE® Pro;

1 Skycontroller 2;

3 batteries;

1 bacpack;

2 batterychargers e 3 adaptors.

Analist CLOUD 1 year;

OneRay-RT 1 year;

Pix4Dmapper 1 month;

CLOUD Sharing platform: RealBIM;

Training.
Specifiche Tecniche
Parrot Bebop-Pro Thermal
GENERAL
RGB camera Full HD 1080p
Thermal imaging: FLIR One Pro thermal imaging camera
Battery life: 25 minutes flying time (with Power Battery)
GPS
Internal memory: 32 GB Extended memory
Max horizontal speed: 16 m/s x
Weight: 604g / 1.33 lb with the FLIR ONE Pro camera
Range: up to 2km with Parrot Skycontroller 2 in an interference free and unobstructed environment
FRONT RGB CAMERA
Sensor: CMOS 14 MP;

Optical: 180° fish-eye lens;

Video stabilizer: 3-axis digital system;

Video resolution: 1920 x 1080p (30fps);

Photo resolution: 4096 x 3072 pixels;

Codifica video: H264;

Photo format: JPEG, RAW, DNG;

Memory: 32 GB flash.
CONNECTIVITY AND PERFORMANCE
Wi-Fi 802.11a/b/g/n/ac;

Wi-Fi: MIMO Dual band;

Aerial Wi-Fi: 2,4 e 5 GHz.
Technical Specifications
Parrot SKYCONTROLLER 2
SKYCONTROLLER 2
Weight: 500 gr;

Dimensions: 200 x 180 x 110 mm.
GENERAL FEATURES
2 joysticks;

8 shortcut buttons;

Li-Po battery: 2700 mAh;

USB;

Antennas Wi-Fi MIMO.
Technical Specifications
Videocamera for Thermal Imaging
FLIR Thermal Camera
Thermal Sensor:  Pixel Dimensions 12μM, spectrum interval 8 - 14μM;

Thermal Resolution: 160x120;

Visual Resolution: 1440x1080;

HFOV / VFOV: 55° ± 1° / 43° ± 1°;

Frame rate: 8.7Hz;

Focus: Fixed 15 cm - infinite;

Scene dynamic range: -20 °C to 400 °C (-4 °F to 752 °F);

Accuracy: ±3 °C (5.4 °F) or ±5%, typical Percent of the difference between ambient and scene temperature. Applicable 60s after start-up when the unit is within 15 °C to 35 °C (59 °F to 95 °F) and the scene is within 5 °C to 120 °C (41 °F to 248 °F);

Dimensionis 68 mm L x 34 mm A x14 mm P (2.7 in x 1.3 in x .6 in);

Weight: 36,5 grammi.
Do you want to animate your 3D Models?
Download OneRay-RT.
Do you want to create animations of your 3D models, your projects and your surveys? The solution is OneRay-RT, the real-time animation software! OneRay-RT imports all the .obj files, adds elements, characters and settings in a few clicks.