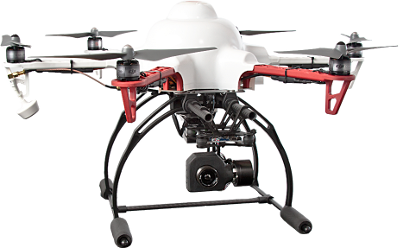 Thermographic Surveys with the DRONE
The Complete Solution with the DRONE F550 and the FLIR TAU 2 infrared thermal camera.
DRONE for Thermographic Surveys
F550-IR DRONE: the Professional Solution.
Analist Group is proud to present the new F550-IR Complete Solution for thermographic surveys with the DRONE. The very best infrared technology combined with a powerful, stable and ready-to-fly DJI F550 DRONE. Innovation and technology in a UNIQUE Solution that can be brought to you by Analist ONLY. It INCLUDES: a ready-to-fly F550 Drone + a FLIR TAU 2 336 9mm thermocamera + a Remote Controller + a Video Recorder + a wireless Monitor for live viewing + a Gimbal stabiliser for TAU 2.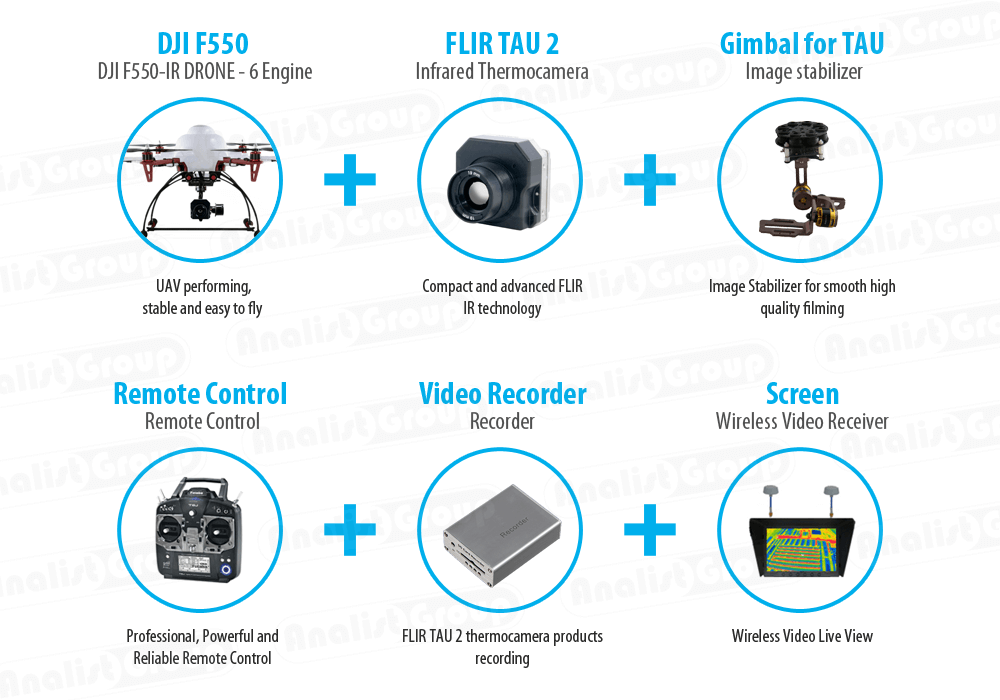 The F550-IR Drone
Ready-to-fly: stable and complete.
The F550 hexacopter represents a safe and versatile choice: ready-to-fly, stable and easy to fly. It includes a Gimbal stabiliser for the FLIR TAU 2, a remote controller, a Video Recorder for the TAU 2 a wireless live viewing monitor. 
You will not need any othe accesory to carry out your thermographic surveys. We have devised and tested a Complete Solution which is also most versatile, suitable for any type of thermographic survey. We are the only who can offer you the tranquility of a worry free Solution. All you have to do is fly.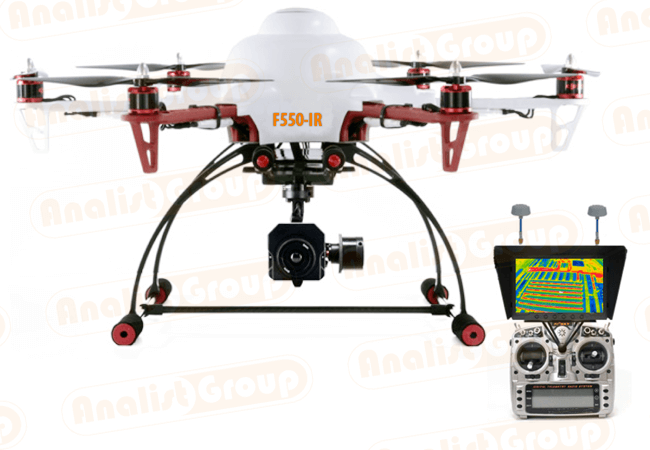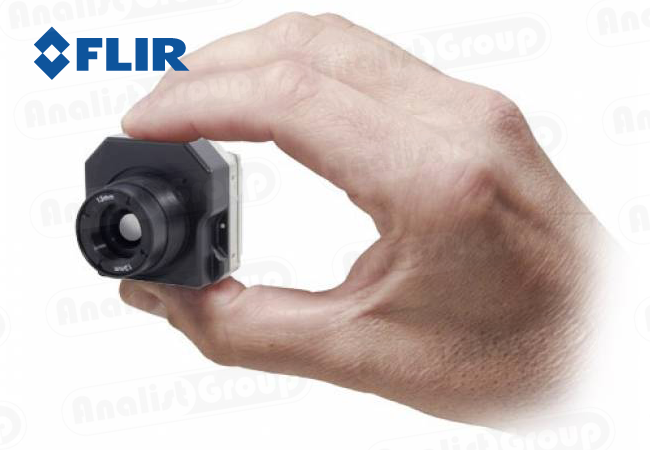 FLIR TAU 2 336 9mm
Light and versatile infrared thermocamera.
The Solution includes the new FLIR TAU 2 9mm lens thermocamera, which combined to the F550 DRONE, becomes a most powerful and versatile Solution. With our F550-IR Solution it is possible to carry out thermographic surveys of photovoltaic panels, thermographic inspections of heat dipersions or humidity of buildings and constructions, it is also possible to assess the condition of vineyards, land and fields. Try our cutting-edge technology!
How it works
Fly, Film and it's done.
Our Solution has been devised to enable you to work fast, accurately and professionally. The video recorder installed on the DRONE films the thermal images produced by the FLIR TAU 2. All you have to do, after, is import the survey on your computer in order to create the Report and the video most easily.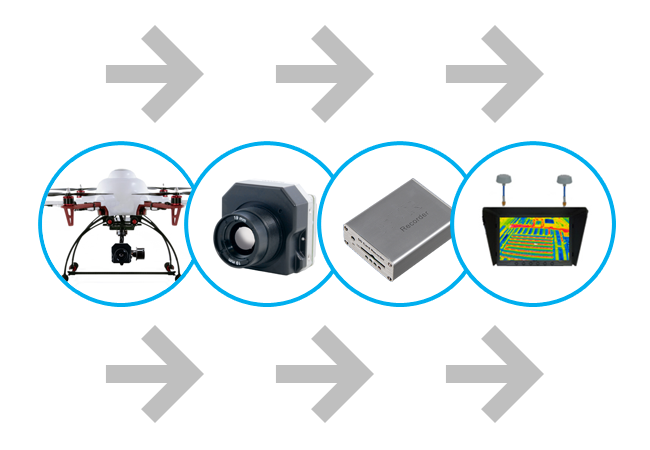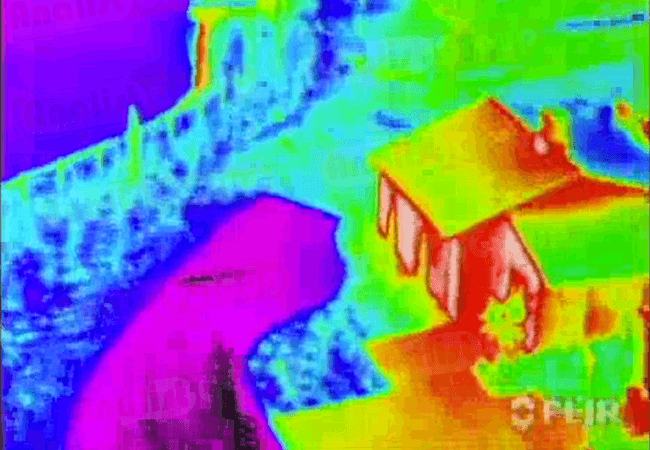 Use of the Solution
No limits, new business opportunities.
Our F550-IR Solution is used in many fields and implementations: thermal dispersion, humidity detections, agricultural surveys, thermographic surveys in inaccessible areas and more. 
Our customers have been able to offer new services and thus increase their business opportunities. By increasing their offers they have improved their brand image. Why not access the new business opportunities that Thermography can offer!
FAQs
Frequently Asked Questions.

HOW HIGH CAN MY F550-IR FLY?
You can fly your F550-IR up to approximately 300 m. Baring in mind that the flight up takes 6m/s and the descent 2m/s. At higher altitudes, the air gets thinner, which will make control more difficult. Please note that flying above that height will bring you into airspace with manned aviation such as helicopters and planes, and can be highly dangerous. However, depending on the type of application, there are different ideal altitudes: for Land Survey flights 50 meters or slightly above is enough; for Thermographic Inspection of Photovoltaic Panels Systems, a flight between 25 and 50 meters in altitude is ideal.

HOW FAST DOES IT FLY?
It is capable of flying at a maximum speed of approximately 5m/s. The ideal speed however, depends on the type of application we use the drone for. In Photogrammetry, for example, the target is always clear and sharp footage. Theoretically the higher you fly, the faster you can go without blurry images. If you fly too near to your relief object at a high speed, there is the risk of blurry footage, which will negatively affect the quality of your Survey.

HOW LONG CAN A F550-IR FLY?
When flying in good weather conditions at a speed of approximately 5m/s the battery life is of about 18/20 mins. The battery can be changed very quickly and easily thanks to the new integrated battery compartment. It is advisable to have one or two extra batteries for vast Survey areas.

HOW MUCH WEIGHT CAN IT LIFT?
The F550-IR is designed to be capable of carrying up a total of about 2 kilos of payload (like an action camera setup). This ready-to-fly set up has been specifically designed for immediate and efficient use. It has been tested for maximum stability and highest performance. Adding extra weight reduces flight time, stability and general efficiency.

DOES IT WORK WITH ANDROID TABLETS AND PHONES?
YES. The Android software works with any device that has GPS and that can support an OTG cable and has 4.0 Android System or above. Android recommended: Samsung Galaxy S3, S4, Note 2, Note 3 or phones of similar configuration. Read the article ►

CAN I USE IT WITH MY iOS™ DEVICE (IPHONE AND IPAD)?
Absolutely YES. iOS recommended: iPhone 4s, iPhone 5, iPhone 5s, iPhone 6, iPhone 6 Plus, iPod touch 5 (available but not recommended: iPad 3, iPad 4, iPad mini). Read the article ►

WHAT IS THE "Return Home" Feature?
The F550-IR Drone flies back to take off position in case of loss of control. The flight radar displays the current position of the F550-IR in relation to the pilot. Exceeding the control range of the remote control will trigger 'Return-to-Home', that is if connection between the drone and the pilot is lost the F550-IR will automatically fly back to its takeoff point and land safely.

HOW MUCH WIND CAN IT FLY IN?
Flying a device this small in heavy wind conditions is always going to be a challenge. The F550-IR with GPS enabled are designed to stay in place and they will do their best to maintain a set position. In our experience, we have been able to fly in winds of up to 15 km per hour without significant degradation of control. If there is a considerable amount of wind, it will put a heavier stress and load on the motors and batteries and your flight time will most likely be adversely affected. Read the article ►
Please fill out the form below to request further information.