New FLIR C2
Professional Thermal Imaging Right in your Pocket
Pocket portable
Ready to go and ready to use.
Light and slim, FLIR C2 fits comfortably in your work pocket.

The bright 3" touch screen offers the practical automatic orientation feature.

The built-in LED spotlight can be used as a flashlight  and photo illumination.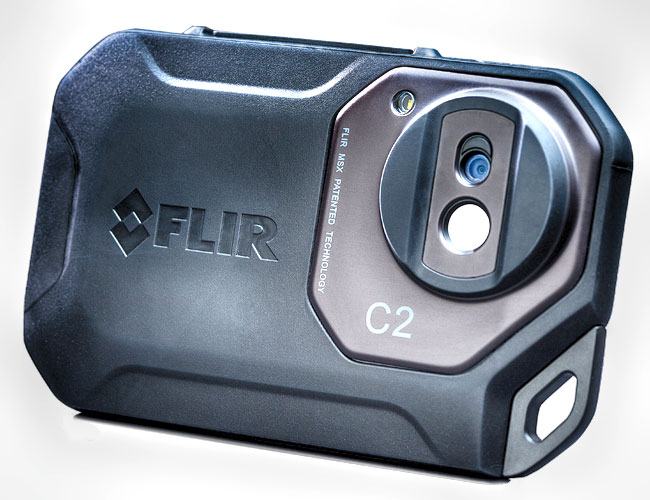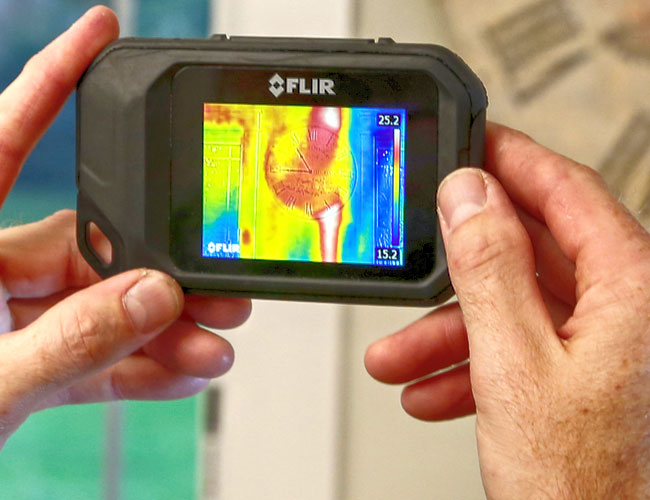 Full Radiometric Images for complete, powerful, professional Reports.
The C2 JPEG images store 4.800 individual measurements (80 x 60 pixels) that can be analyzed using the FLIR Tools software included with the camera.

The thermal images can be overlapped with the real images to generate clear and professional reports.
MSX® Technology
The FLIR C2 features the unique MSX® technology that adds key details from the onboard visible light camera to the infrared image in real time. 

The result: an all-in-one undiluted thermal image with visible light features that immediately lets you recognize where the problematic heat pattern is.
Why do we use the FLIR C2?
Real uses of the FLIR C2.

1

 Light, slim, pocket size
2

 3" intuitive touch screen with auto orientation
3

 Built-in LED spotlight used as a flashlight and photo illumination
4

 Large, simple image save button saves thermal, visible and MSX image all at once
5

 Power button for fast access
6

 USB Micro-B Data Transfer
7

 Visible Camera
8

Thermal Camera
9

Intuitive User Interface
Key Features
FLIR C2 Thermal Camera.
Flir C2 Thermal Camera

Light, slim, it comfortably fits into any work pocket.
3" intuitive touch screen with auto orientation for easy viewing.
MSX unique feature for clear images.
Built-in LED spotlight to use as a flashlight and photo illumination.
Wide-angle lens.
Completely radiometric images ranging from -10° C to 150° C.
FLIR Tools streaming Videos.
FLIR Tools Software for MAC or PC included.
2 Year FLIR warranty on the camera and 10 years on the detector
Technical Details
Imaging and optical Data

IR Sensor

80 X 60 (4.800 pixels)

Thermal Sensitivity

<0,10° C

Fiel of view

41° x 31°

Minimum focus distance

Thermal: 0,15 m (0,49 ft.)
MSX®: 1,0 m (3,3 ft.)

Image frequency

9 Hz

Focus

Focus free

Spectral Range

7,5-14 μm

3"Display (colour)

320 × 240 pixels

Automatic orientation

Yes

Touch screen

Yes, capacitive

 

Image presentation modes

Thermal image

Yes

Visual image

Yes

MSX technology

Yes

Gallery

Yes

 

Measurement

Object temperature range

 –10°C to +150°C ( 14 to 302 °F)

Accuracy

±2 °C (±3,6 °F) or 2%, whichever is greater, to 25 °C (77 °F) nominal

 

Measurement Analysis

Spotmeter

On/off

Emissivity correction

Yes; matte/semi/glossy + user set

Measurements correction

Reflected apparent temeperature - Emissivity

 

Set up

Colour Palettes

Iron, Rainbow, Rainbow HC, Gray

Storage Media

Internal memory stores at least 500 sets of images

Image file format

Standard JPEG, 14 bit measurement included

 

Video Streaming

Non radiometric IR-video streaming

Yes

Visual video streaming

Yes

 

Digital Camera

Digital Camera

640 × 480 pixels

Digital Camera, focus

Fixed focus

 

Additional information

USB, connector type

USB Micro-B: Data Transfer to and from Pc, iOS and Android

Battery

3,7 V Rechargeable Li-ion polymer battery

Battery operating time

2 h

Charging system

Cherged inside the camera

Charging time

1,5 h

External power operation

AC adapter, 90-260 VAC input - 5 V output to camera

                                 

Power management

Automatic shut-down

Operating temperature range

 –10 °C to +50 °C (14 to 122 °F)

Storage temperature range

–40 °C to +70 °C (–40 a 158 °F)

Weight (incl. battery)

0,13 kg (0,29 lb)

Size (L × H × H)

125 × 80 × 24 mm (4,9 × 3,1 × 0,94 in)
In the Package
FLIR C2 Thermal Camera

Battery (Installed in the Camera)

Lanyard

Power supply/charger EU, UK, US, CN and Australian plugs

FLIR Tools Software

Printed getting started guide

USB memory stick with documentation

USB cable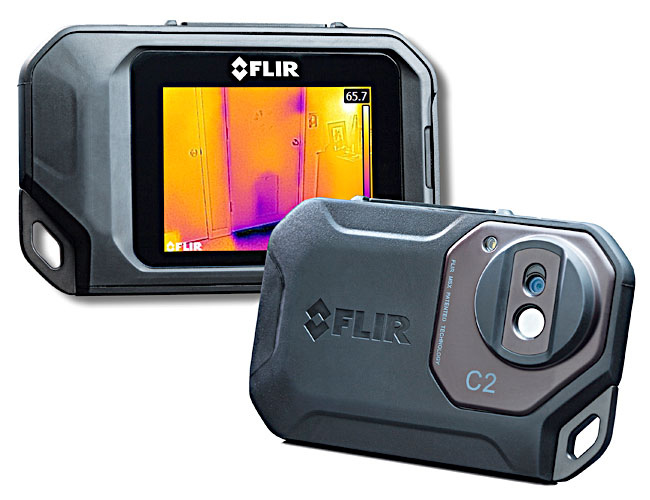 Frequent questions about FLIR C2
The answers.