Kit b-mobile for DJI Phantom
Great Business Opportunity right on your doorstep.
Only with Analist Group you will have the chance to master state-of-the-art Technology to successfullyaccess new markets.
The Complete Solution for Precision Farming
One complete flow, from flight to ENDVI and NDVI analysis.
Now available the Precision Farming Complete Solution with Multi-spectral MAPIR Cameras for Phantom 2, 2 Vision, 2 Vision+, Phantom 3 Professional, Advanced, 4K, Standard and Phantom 4. Easy to assemble, lightweight, practical and functional.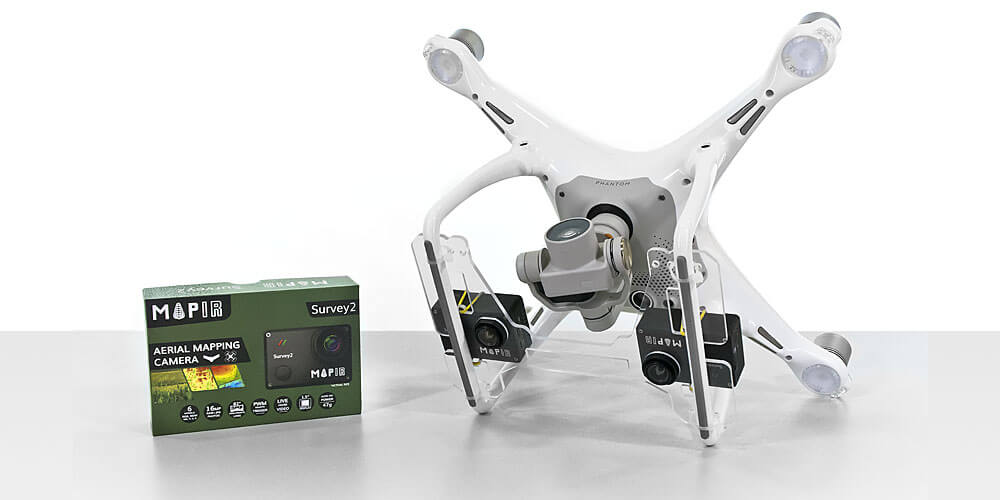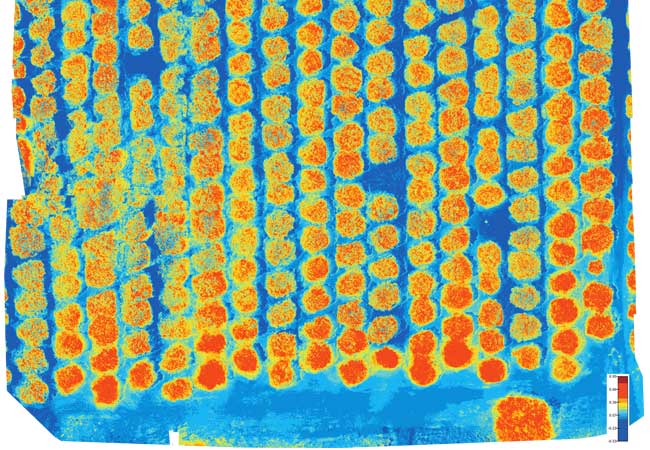 Showcases
b-mobile in action.
Thanks to the new b-mobile MAPIR Kit for Phantom 2 and 3 we are all able to easily access in an extremely short time spam added value data which are fundamentally important in order to operate in Precision Farming. Below some examples of real cases results obtained (Orthomosaic, NDVI, ENDVI, Chlorophyll analysis, etc.) with the b-mobile Kit.
A great solution for DJI Phantom users
Create new business connections and offer them high precision services with an out-of-the ordinary visual impact.
The b-mobile kit for Phantom is ideal for all those users who already fly a drone whether it is a DJI Phantom 2, 3, 4. The bracket with 2 multi-spectral MAPIR cameras can be very easily mounted without at all compromising the drone's asset and stability. You can continue to use the camera on your drone with you two MAPIR Cameras mounted under your UAV. And what's more you will have no problem with the drone warrantee! Non invasive technology! We have thought of everything! We also provide training: specific courses, detailed and full of practical examples. You will learn how to fly, shoot the photos and generate NDVI, ENDVI, yield maps and more.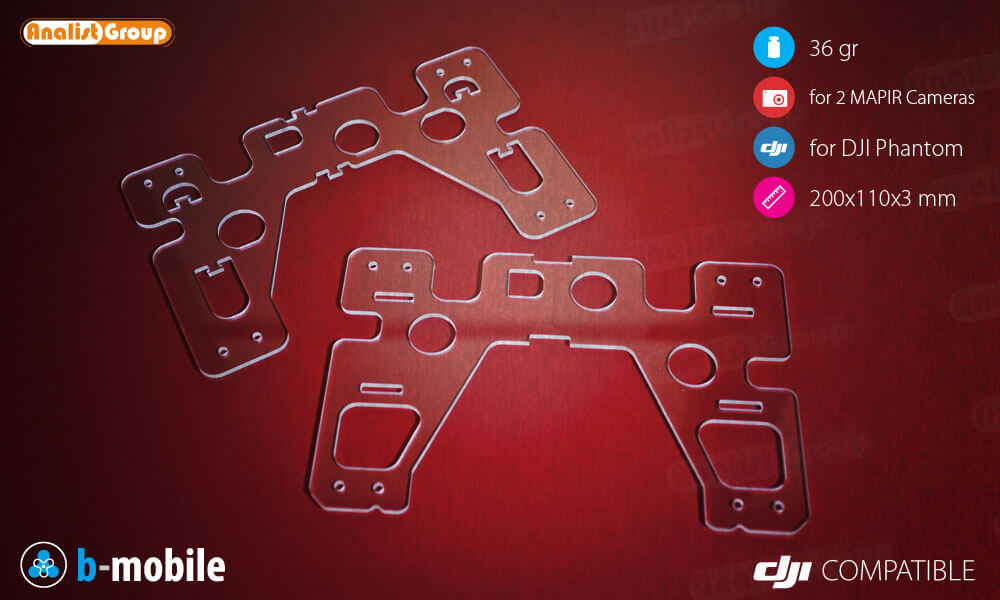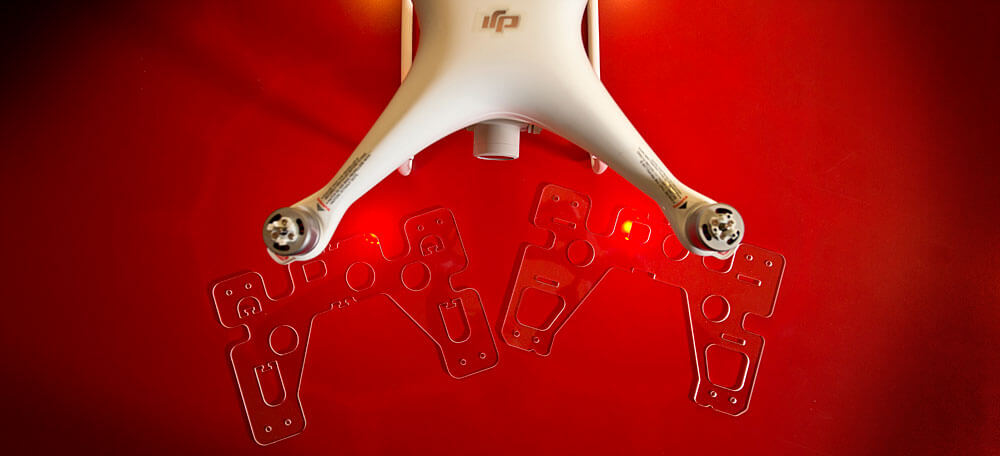 Ready to use in under 2 minutes
DJI Warrantee uncompromised.
The new b-mobile kit includes the b.mobile bracket for all DJI Phantom drones, which allows you to equip your drone with the most efficient MAPIR Cameras and extend its use to Precision Farming. All this without compromising your Phantom warrantee. As a matter of fact the b-mobile solution is non-invasive, it can assembled and disassembled without modifying in any way your drone. You will be able to use the MAPIR cameras in adition to the Phantom camera for data acquisition and reducing time and costs.
Multi-spectral for every need
From photogrammetry to multi-spectral, NDVI and ENDVI.
The Phantom MAPIR can be equipped with interchangeable cameras, each of which captures specific spectral bands. NDVI indexes, yield maps, mapping and classification of vegetation species, yield enhancement, forest fire monitoring: we have the Solution for all needs. With our Solution you will be able to generate orthomosaics and analyse the vegetation health condition. Learn which MAPIR cameras to use ►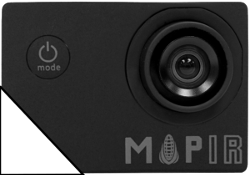 Visibile Light RGB
Ideal for: 2D and 3D maps, plant counting, photogrammetry with Pix4Dmapper.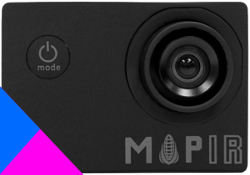 Blu NDVI + NIR
Ideal for analysis and control plant health condition, NDVI maps, yield maps, growth monitoring, cultivation identification, biomass analysis.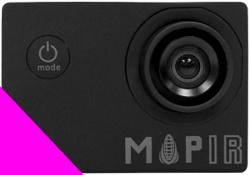 Infrared
Ideal for: NDVI and ENDVI comparative analysis, chlorofyll analysis.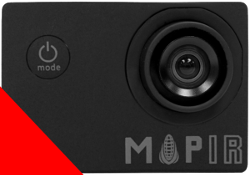 Red Spectrum
Ideal for: NDVI health condition analysis of plants.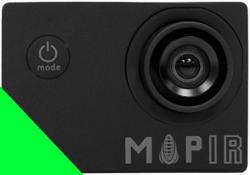 Green Specrum
Ideal for: ENDVI health condition analysis of plants.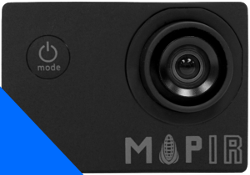 Blu Spectrum
Camera to use with red and green spectrum for RGB images.
How does it work?
Fly, generate NDVI maps and DTMs.
The Phantom MAPIR Complete Solution is very simple to use.
1. Fly and acquire your imagery (set the flight plan and frames per second: your DRONE will do all the work). 2. Import the images into Pix4Dmapper to automatically create NDVI Maps, Point Clouds and Digital Terrain Models (DTMs). 3. Import the Point Cloud into Analist 2017 CLOUD and create Profiles, Cross Sections, Contour Lines, Areas and Volume calculations and much more. Last but not least animate your 3D Model with OneRay-RT.
Only Analist Group can offer you the Complete Professional Solution for Precision Farming.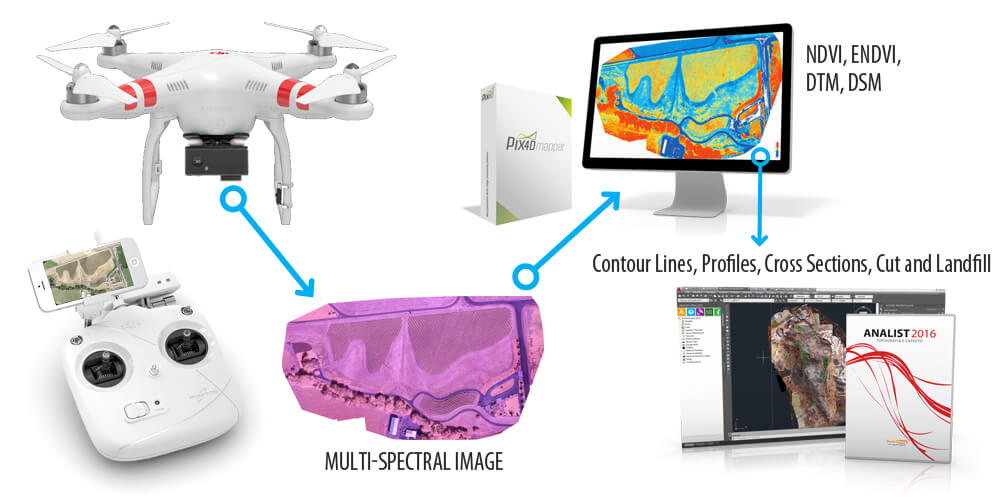 Data Processing and Analysis with Pix4Dmapper
Point Clouds, 3D models and orthomosaics with one click.
Thanks to our cooperation with Pix4D, the MAPIR cameras are fully compatible with the Pix4Dmapper photogrammetry software. You will be able to generate point clouds, 3D models, orthomosaics and much more. You will also be able to analyze multi-spectral data such as the NDVI and the ENDVI Indexes very easily and promptly.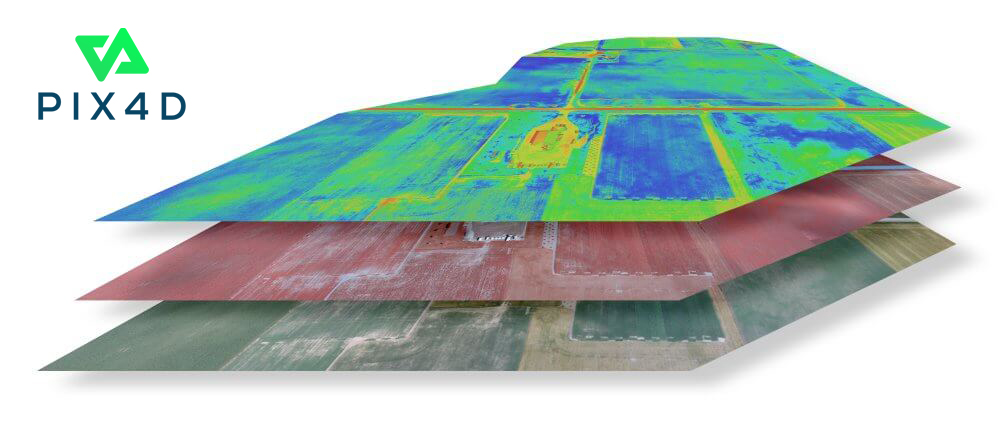 Frequently Asked Questions
All You need to know.

How do you geo-tag the MAPIR images from the drone?
It is not possible to geo-tag images from a MAPIR Camera right now. Research and testing is being thoroughly carried out.

How do you attach the b-mobile to the drone?
The b-mobile mount is attached at the bottom of the Drone.

Do you support the MAPIR Survey 2 Cameras?
The b-mobile supports the MAPIR Survey1 and the MAPIR Survey2 Cameras.

Do you have examples of flights with the MAPIR camera?
Examples of flights with the Phantom MAPIR:

Does the b-moblie interrupt with the acoustic sensor of the drone?
The b-mobile mount does not affect in any way the Drone engineering.

How do you fly the drone over the fields? Which SW or APP for flying?
The automatic flight plan (Altitude, speed, time, area coverage) can be set by:

How much weight does b-mobile add to the Phantom and does it affect its performance?
The b-mobile mount with the MAPIR camera add around 50 gr. to the Drone and they does not affect the performance at all. Please note that when flying a Drone weather conditions must always be considered.

Which post-processing SW do you have?
Analist Group provides different software solutions for
ThermograReal-time 3D Animation: Find out more ►
Contour Lines, Cross Profiles and Sections
How about our Autodesk technology based Software?
Whether you need to create Contour Lines, Cross Sections and Profiles, Surface ans Volume Calculation now you have the new Analist CLOUD! The Autodesk based tecchnology software, which imports Point Clouds from Pix4Dmapper (or other software) and creates Cross Sections and Profiles, Contour Lines, Orthomosaics and more with astonishing graphics. Analist CLOUD reads all data from Total Stations and/or Topographic GPS and it is ready to use with UAV technology and Point Clouds.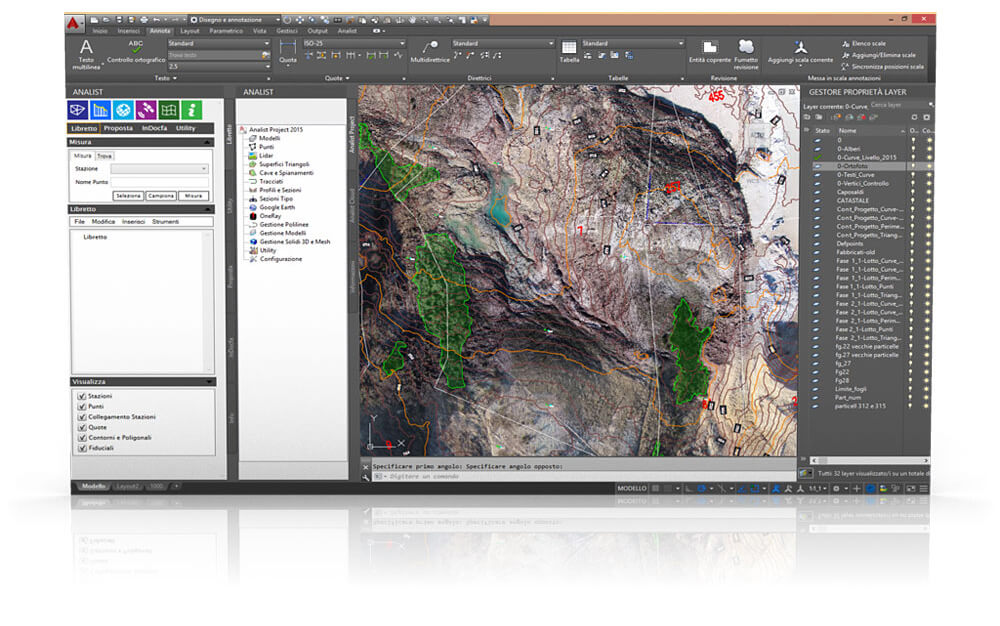 Simply Spectacular Animation Features
Present your Projects like never before.
Do you want  to create an animated 3D Model? Now you can with OneRay-RT, the new software for real time 3D Renedering and Animation. State of the art for the creation of videos, renderings and live demonstrations thanks to the processing speed! OneRay-RT offers extraordinary graphics with an efficient and fast workflow. Present your projects like never before and become amazing in what you do!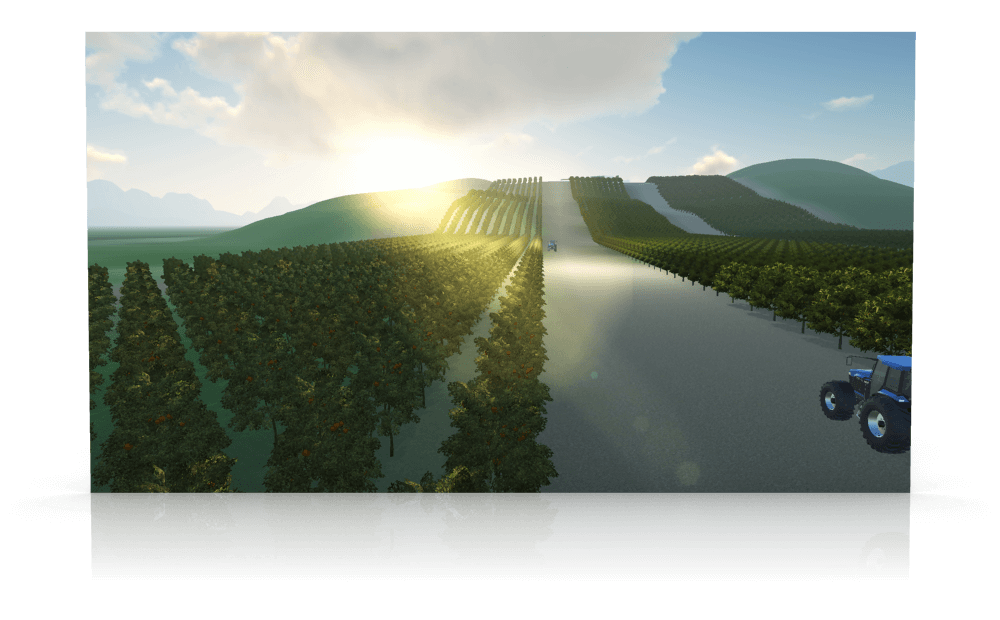 DJI Phantom 3 Professional

Preparing your first flight
DJI Phantom 3 Professional Flight

Information on photogrammetric flights
The Photogrammetric flight: all the secrets.

Apps to use
What Apps to use to fly your drone.
Pix4Dmapper: 3D Models and Orthomosaics

Your first project
Your firts project.

Try Pix4Dmapper
Download the FREE Pix4Dmapper Trial.

Pix4Dmapper processings
Pix4Dmapper processing results.

First steps with Analist
Your first projects.

Profiles, sections, contour lines, volumes and surfaces

Geo-tagging images and 3D Models
Geo-tagging images and 3D Models.

Analist Web Page
OneRay-RT: Rendering and 3D Real Time Animation

Your first Project
Rendering and 3D Animation like never before.

Terrain editing and modelling
Terrain editing and modelling.

Importation from Pix4Dmapper
Data importation from Pix4Dmapper.

Animation 3D models 
Animate your 3D model and create extraordinary three-dimensional videos of your surveys.

Environmental Impact Assessment
Environmental Impact Assessment.

OneRay-RT FAQs